On the 6th of December 2017, Everland, a new property development company in Melbourne, held its opening ceremony at their headquarter on Collins Street. Many well-known real estate agents, bank representatives, politicians and business elites attended the event and discussed the development prospects of Melbourne property market. This celebration is not only an important milestone for Everland, but also a meaningful gathering of all the leaders at property development industry.
We are a team of dedicated property professionals with extensive development experiences. Our members come from different professional backgrounds with expertise in investment, finance, legal, operations, property management and development. At current stage, our projects are located on St Kilda Road, Melbourne, and some inner East Suburbs.
Our company's vision is: We deliver value through a combination of rigorous analysis, hands on management, economic fundamentals and innovative design. We strive to have a positive and lasting impact on Melbourne's built environment, building places for people to live and work, and bring high returns to our investors.
Everland's headquarter is located on 40th floor of Rialto Tower, Melbourne's premier business building. The new office features clear, versatile, modern design that optimizes office productivity and comfort. The guests discussed about the future and challenges that of the residential development market in the view of Melbourne's panoramic view of summer.
Michael (second from left), Tim (third from right)
In the witness of many guests, Everland's two co-founders started the ribbon cutting ceremony.
After the ribbon cutting ceremony, the guests moved to The Lui Bar located on the 55th floor to participate in the company's project introduction and presentation.


Daniel Mulino, State Member of Eastern Victoria, gave a speech and wished Everland a steady and healthy development. He said that Victoria is currently in a period of rapid development. From the perspective of economic and population development, Melbourne has unlimited potential and business opportunities. The influx of people has made the city exuberant, which has also led to an increasing demand for housing.
'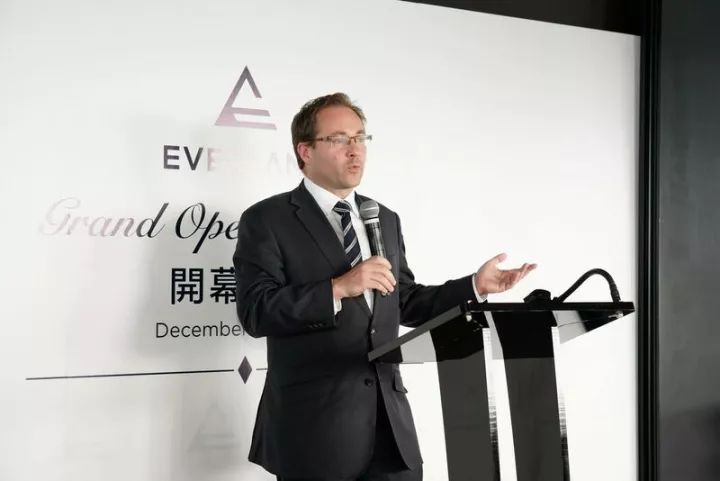 Daniel Mulino, State Member of Parliament
Next, Scott Keck, Chairman of Charter Keck Cramer, delivered a speech. In his speech, he mentioned that Melbourne has far less than the number of apartments in similar cities in other countries and is still in an undeveloped stage. In other words,Melbourne's apartment market is not saturated as rumoured by outsiders, and is full of development potential. With the rapid increase in Melbourne's population, the demand for apartments will explode in the next few years. Fully affirmed Everland's investment direction and will continue to improve in the future.
Mr Scott Keck, company chairman of Charter Keck Cramer
The pursuit of quality of life is also a business attitude. Tim Chang, co-founder of Everland, took the stage to deliver a speech. On the stage, he talked about his investment philosophy: choose the best site and build a state-of-art product. As a young and energetic team, they dare to dream, dare to create. The most important thing is that they have an uncompromising heart for the quality of life. Different from the traditional developers, Everland set their sights on high-end apartment market. In addition to the selection of quality, materials, best facilities and pay attention to details, they hope to create their own characteristics. With style, integrating their ideas into the project, Tim hopes to create more exquisite and fashionable living space to residents and at the same time bring visual, auditory and sensory enjoyment to them.

Tim Chang, co-founder of Everland
Everland's collaboration with BatesSmart, one of Australia's most recognizable architectural firms, demonstrates their determination in delivering state-of-art product to their clients.
Michael Xie, co-founder of Everland
Michael Xie, co-founder of Everland, delivered a speech. He thanked all the guests present for the opening ceremony of Everland. In his speech, he mentioned Melbourne has been named world's most livable city seven consecutive years, working in the center of the city everyday, especially in such magnificent building as Rialto.


He and his team are inspired and strive to create products with outstanding quality and design. Melbourne is attracting the attention of tourists and immigrants around the world, rapidly developing and gradually replacing Sydney as Australia's largest city. Similarly, the attitude of people in Melbourne to enjoy life has also deeply influenced Everland, hoping to bring this spirit of quality pursuit to customers. With the further development of the company, the team looks forward to work hand in hand with different partners and to create Melbourne's urban development legend.
Michael Xie and Steve Jones, Director of Bates Smart
WeChat